My Child at School (MCAS)
The parent portal within our School Management Information System, Bromcom, is called 'My Child at School' (MCAS).
'My Child at School' is a simple app for a smartphone or a web browser, which is the main means of communication from the school to parents. We strongly recommend that all parents and carers install the app and register to use it.
Through MCAS, parents and carers are able to log on and look at a wealth of information including your child's timetable, attendance records, reports, documents, term dates and more. You will also be able to receive all instant messaging communications from the school.
We will enable more features in the app over time that will provide parents with a range of additional information and services, from details of rewards and behaviour to payments for events and educational visits. We aim for it to become a one-stop shop for all information relating to your child's schooling.
Due to being directly linked with the School Management Information System, all the information within MCAS is live and continuously updated in real time and available 24 hours a day.
Please download and login to MCAS
When we set you up on MCAS you will receive a separate email from MCAS/Bromcom with your School ID, Username, and Invitation Code. You will need all this information to create your account and login.
All logon details have been emailed to parents and carers with parental responsibility. The app can be downloaded from your specific app store - either Apple's App Store or Google Play. Please note, you must use the email address that we have on our system for you.
You may find the links to the following guides helpful:
You can also watch this video on YouTube Signing up to the My Child at School App
School ID: 12729
How to restore parental login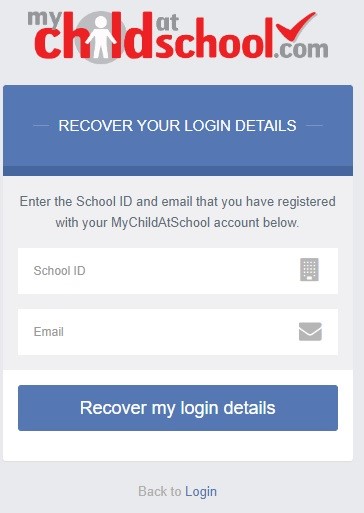 https://www.mychildatschool.com/MCAS/MCSForgottenLogin
Use the school code 12729 and the email address, which you originally registered with the school.
If you have any issues with logging in, please contact the school (See Contact Us) and we will help you to do so.