Friends of William Farr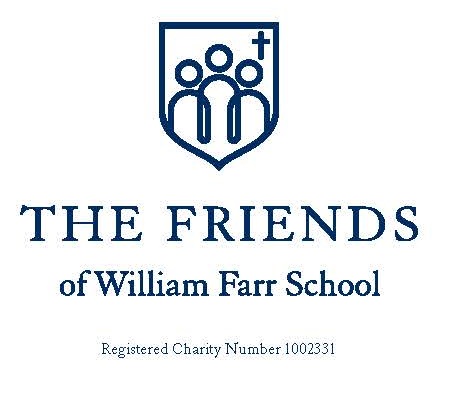 The Friends of William Farr exists to raise funds for projects within our school and to promote social activities involving students, parents and teachers. We have donated many items to the school that enhance the experience of all students. Our aim is to support all sections of the school in their requests for funding, which come directly from staff and students to us.
The Parent/Staff Association (The Friends of William Farr School) exists in order:
to stimulate interest in the life and work of the school;
to encourage co-operation between teachers, parents, governors, former pupils and all others associated with the school;
to engage in activities of all kinds affecting the education and welfare of all children in the school;
to raise money for extra school resources that would not otherwise be provided for from normal school funding and finance.
All parents of students at the school are automatically members of the Association and receive information about all activities organised by the Association.
In the last few years we have donated or helped to fund many resources such as:
Sam The Skeleton - Science Department
Ace Day
Geography Badges
E-Pens for exams
RS Department wall frieze
School team netball kit
Year 7 trophies and bookmarks
House trophy cabinet
Year 11 incentive scheme
Artist Festival
Author day – English Department
Rock challenge
4 cameras
We continue to be successful in our fundraising and are looking forward to another productive and enjoyable year, having enjoyed a fabulous start to the year.
New recruits for the committee are always welcome from any part of the school. Being a committee member is thoroughly enjoyable and doesn't involve too much hard work. You don't have to attend every meeting or event and it is always possible to substitute wives for husbands and vice versa if other commitments intervene.
We also appreciate any volunteers at events to help with school refreshments - please contact us for more details - or ask at the school reception desk.
www.facebook.com/williamfarrschoolfriends
www.instagram.com/williamfarrschoolfriends
100 Club
This is one of the Friends' fundraising ventures. It is easy to join, involves a one-off £12 payment and then you can sit back and see if you win in any of the 12 draws that will take place throughout the year. The more members, the more prize money and the more money we make to help students at William Farr. It has started out as a '100 Club', but with wonderful support it could easily be a '200 Club'.
It is all very simple and we invite you to recruit as many neighbours, family, and friends as you can…and, of course, yourselves to continue making the Club such a success. Our children will benefit from the money raised - they will always be the REAL winners!
It is easy to join. Each player (who must be over 16 years old) pays a single payment of £12 to have a membership number for the whole year. Payment of £24 will buy two different membership numbers etc. Each month, £1 per member forms the prize fund.
Each month half of the prize fund goes to the school fund, the other half is shared out as prizes. The more members there are the better the prizes get! It is simple – just pay £12 then wait to see if you have won each month. We'll send the prize money to you via the post if you win.
Please return entries to the school office in an envelope marked FRIENDS, "100 Club". Your membership number/receipt will be issued to you as soon as possible thereafter.
Thank you for your support.
Details for joining the 100 Club can be found on the Friends Facebook page or by contacting the Friends (See Contact Us).