Award recognises outstanding teaching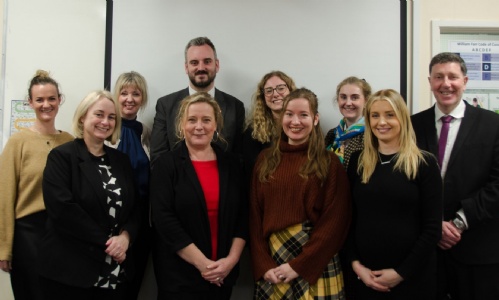 Top class teaching at a Welton school has been rewarded with a prestigious educational award.
William Farr Church of England Comprehensive School has been awarded The Prince's Teaching Institute (PTI) Subject Leadership Programme Mark for outstanding teaching in English.
Headteacher Jonathan Knowler said: "We are delighted to have been awarded The PTI Mark for our English department's innovative work.
"My congratulations to them. They have delivered consistently outstanding results, and this prestigious national recognition is richly deserved.
"We will be proud to carry the Mark on our website as evidence of our commitment to inspirational teaching."
The PTI supports teachers at all stages of their career by delivering a wide range of professional development courses.
The registered charity launched the Subject Leadership Programme in 2007 to recognise and reward school departments that develop inspirational ideas and activities regardless of pupils' backgrounds or abilities.
The PTI's Subject Leadership Programme is open to all state secondary schools in England.
To achieve the PTI Mark, departments have to demonstrate that they have increased the challenge within their subject curriculum, developed their staff's specialist subject knowledge, developed subject-based links outside school and enthused their pupils through subject-based activities beyond the curriculum.
After three years of Subject Leadership Programme membership, departments may choose to join the Research Programme by devising an advanced multi-year programme in one of these areas.
As Research Programme members they will share their growing expertise with others in the Subject Leadership Programme to the benefit of all.
In addition to the PTI Subject Leadership Mark, the English department is thrilled to have been nominated for a special Bernice McCabe Award.
This award promotes and celebrates excellence in subject leadership, recognising departments that put quality subject teaching at the heart of the classroom.
Bernice McCabe OBE, who sadly passed away in 2019, was the founding Co-Director of the PTI and believed in the transformative power of inspiring subject teaching.
To find out more about the PTI, visit www.ptieducation.org.
Caption
Mr Knowler (right) with the award-winning English department at William Farr School.